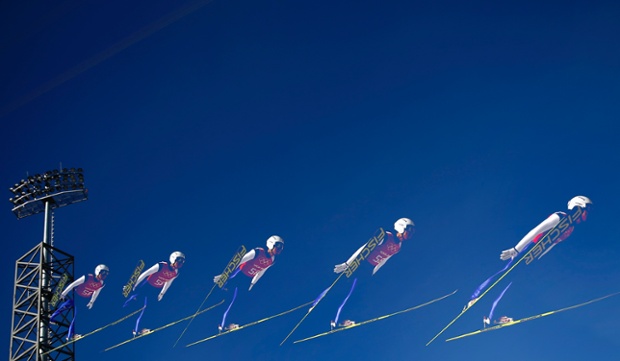 The excitement of the competition has been unrelenting. The athlete is still breathless! (And kinda cute too!) She is very willing to give interviews and the media attention has been rewarding.
The very air is electric here with skiers flying thru the air. You have to duck when they say duck around here
This athlete was quite busy last night ripping along with the figure skaters on TV. All these blue jeans were opened up to allow the athlete to cut them into squares for a rag quilt, backed by the flannel squares. The flannel started as 10" squares and was reduced by the athlete's drive into 5" squares. The athlete states that this was "rewarding."
Here are the scraps left over from the jeans.
Here are the 2 boxes of blue jean scraps and the flannel squares all ready for their final metamorphosis into a Rag Blue Jean Quilt.
The athlete is awarded a GOLD medal for this endeavor.
L-I-N L-I-N L-I-N L-I-N L-I-N L-I-N L-I-N
YAY!!!
The O-Lin-pic committee is sad to announce that the O-Lin-pic village was trashed by the athlete.
You can clearly (?) see here the results on the floor of the athlete tearing apart her opponents, the blue jeans. The athlete won easily, with the help of a sharp, sturdy pair of scissors. There should be another gold medal awarded for this, but O-Lin-pic rules avow no awards for taking things apart, only for putting them together. Therefore no awards for best use of seam ripper, tho it has been suggested. Maybe someday this rule will be changed and seam ripping will be allowed in the O-Lin-pics. Please request this change from your O-Lin-pic committee.
On another note, the athlete wishes to acknowledge the help received from Karen at Sew Many Ways for the awesome blog buddy helpers she posts. Today's blog is about a site that will tell you if a particular site is "down" or if the problem is somewhere on your end. Karen has a blogging help category in her top bar. I urge you to avail yourselves of this site.